Home
»
US Industrial Machinery - Amerigo Machinery Co.
US Industrial Machinery

U.S. Industrial Machinery
U.S. Industrial Machinery Company specializes in the distribution of metal working machinery.  Our goal is to provide quality equipment at competitive prices.  We make a concerted effort to inventory the majority of the machines we advertise.
Lathes
FEATURED: New U.S. Industrial Mega Lathe: Model USL63X590
Heavy Duty Geared Head Engine Lathe for HEAVY shaft turning.
Weight Capacity Between Centers: 40,000 lbs. and up
Swing: 40″ to

120″

Center Distance: 10 feet to

80 feet

High Horsepower Headstock
Hydraulic Tailstock Quill and Power Travel
Rotating Center and 3-Jaw Chuck on Tailstock
Heavy Duty Roller Support
Heavy Duty Steady Rest
Very Wide 4-Way Bed
All lathes custom quoted for your application.
---
U.S. Industrial Standard Lathes
Most models INCLUDE:
3-Jaw Chuck & 4-Jaw Chuck
Face Plate & Dog Plate
Chuck Guard
Stead Rest & Follow Rest
Splash Guard
Flood Coolant
Thread Dial
Digital Readout
Taper Attachment
Mills
Milling Machine Models


2VH-3-KIT

3VH-3-KIT

3EVH-5-KIT

• Sino 3- Axis Digital Readout    Inch/Metric
• Flood Coolant and Chip Pan
• Power Table Feed
• Power Quill Feed
• Machine Light
• Enclosed Electrical Cabinet.   Circuit Breaker Protected
• Low Voltage Controls
| | | | |
| --- | --- | --- | --- |
| SPECIFICATIONS | 2VH-3-KIT | 3VH-3-KIT | 3EVH-5-KIT |
| | | | |
| Table Size – 3 t-slots, 5/8″ on 2.5″ centers | 9″ x 49″ | 10″ x 54″ | 10″ x 54″ |
| Table Travel w/Powerfeed Installed | 29″ | 34.4″ | 34.4″ |
| Cross Travel w/Readout Installed | 11″ | 15.5″ | 15.5″ |
| Knee Travel | 15.74″ | 16.5″ | 16.5″ |
| Ram Travel | 12″ | 18.5″ | 18.5″ |
| Quill Travel | 5″ | 5″ | 5″ |
| Power quill feed – .0018, .003, .006 IPR | Yes | Yes | Yes |
| Head tilt – left and right – with degree scale | 90 degrees | 90 degrees | 90 degrees |
| Head tilt – front and back – with degree scale | 45 degrees | 45 degrees | 45 degrees |
| Ram Swivel on turret – with degree scale | 360 degrees | 360 degrees | 360 degrees |
| Spindle Taper | R8 | R8 | R8 |
| Machine Ways, Table, Cross and Knee | Dovetail | Box | Box |
| Maximum Weight of workpiece and fixture | 500 lbs. | 660 lbs. | 660 lbs. |
| Electrical cabinet with disconnect & circuit breakers | Yes | Yes | Yes |
| Spindle Drive | 3HP | 3HP | 5HP |
| Vari-speeds spindle RPM range | 60 to 4200 | 60 to 4200 | 60 to 3750 |
| Voltage, 3 phase | 220 or 440 | 220 or 440 | 220/option 440 |
| Amp requirement @ 220 Volts | 10 | 10 | 15 |
| Machine Weight | 2550 lbs. | 3400 lbs. | 3400 lbs. |
| Shipping dimension – L x W x H on skid | 6′ x 6′ x 80″ | 6′ x 6′ x 80″ | 6′ x 6′ x 80″ |
| Includes Schneider Electronic Spindle Drive | No | No | Yes |
| Includes Manual Variable Speed Spindle | Yes | Yes | Electronic |
| Includes Heavy Duty Power Table Feed | Yes | Yes | Yes |
| Includes Flood Coolant System | Yes | Yes | Yes |
| Includes Base Chip Pan | Yes | Yes | Yes |
| Includes Machine Light | Yes | Yes | Yes |
| Includes Front & Rear Way Covers | Yes | Yes | Yes |
| Includes SINO 3-Axis Digital Readout, inch/metric | Yes | Yes | Yes |
| 100% Inspection, Calibration Prior to Shipping | Yes | Yes | Yes |
Brakes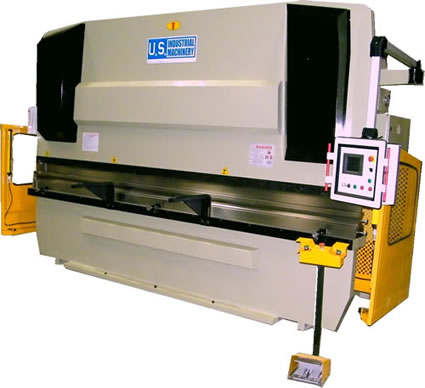 Press Brake Models
22 Ton x 4′ Hydraulic Press Brake
44 Ton x 6′ Hydraulic Press Brake
88 Ton x 8′ Hydraulic Press Brake
88 Ton x 10′ Hydraulic Press Brake
125 Ton x 8′ Hydraulic Press Brake
125 Ton x 10′ Hydraulic Press Brake
125 Ton x 13′ Hydraulic Press Brake
155 Ton x 8′ Hydraulic Press Brake
155 Ton x 10′ Hydraulic Press Brake
155 Ton x 13′ Hydraulic Press Brake
200 Ton x 8′ Hydraulic Press Brake
200 Ton x 10′ Hydraulic Press Brake
200 Ton x 13′ Hydraulic Press Brake
250 Ton x 13′ Hydraulic Press Brake
330 Ton x 13′ Hydraulic Press Brake
390 Ton x 13′ Hydraulic Press Brake
440 Ton x 13′ Hydraulic Press Brake
U.S. Industrial HB4813 Hand Brake
---
Press Brake Videos
---
Shears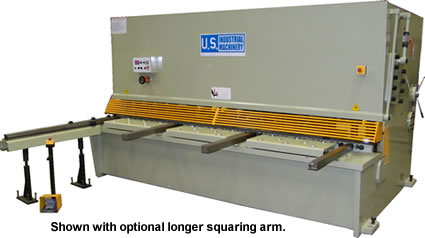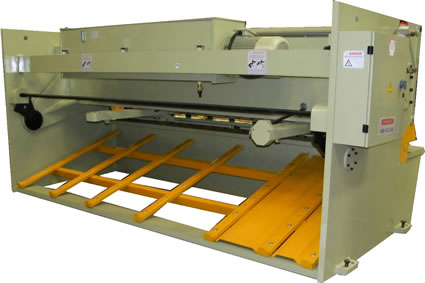 Shear Models
6′ x 1/4″ Hydraulic Shear
8′ x 1/4″ Hydraulic Shear
10′ x 1/4″ Hydraulic Shear
13′ x 1/4″ Hydraulic Shear
8′ x 3/8″ Hydraulic Shear
10′ x 3/8″ Hydraulic Shear
13′ x 3/8″ Hydraulic Shear
8′ x 1/2″ Hydraulic Shear
10′ x 1/2″ Hydraulic Shear
13′ x 1/2″ Hydraulic Shear
8′ x 5/8″ Hydraulic Shear
10′ x 5/8″ Hydraulic Shear
13′ x 5/8″ Hydraulic Shear
8′ x 3/4″ Hydraulic Shear
10′ x 3/4″ Hydraulic Shear
13′ x 3/4″ Hydraulic Shear
Rolls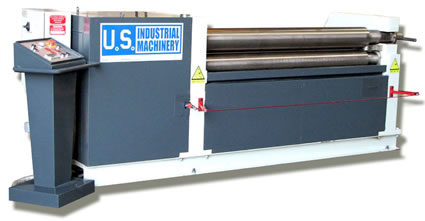 Standard Features
Powered Roll Adjustment
Precision Pinch Roll Adjustment
Top Roll Swing Out
Emergency Trip Line
Pedestal Control
Quick Roll Adjustment
Roll Position Indicators
Crowned Rolls
High Torque Gear Box
Low Voltage Push Button Controls
Ironworkers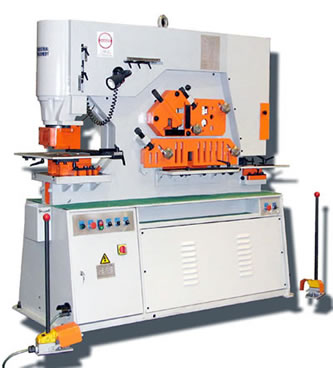 Standard Features
Punch Station
Use Fig. 26 Punch
Use Fig. 62 Die
Angle Shear Station
Flat Bar Shear Station
Notching Station
Rod Shear Station
Electric Backgauge
Oversize Work Tables With Fences
Press Brake Attachment
Magnet Base Work Light
Punch Slug Chute and Bucket
Radial Arm Drills
USRD32-4

32″, Morse Taper 4 Spindle
USRD50-5
49″, Morse Taper 5 Spindle
USRD64-5
63″, Morse Taper 5 Spindle