Victor Machines

Victor Machines
Victor machines have been installed at job shops and world-class manufacturing facilities all over the United States and Worldwide. Many Fortune 500 companies in the United States are among the long list of satisfied Victor customers.
Prior to delivery, all Victor machines go through a rigorous preparation and quality inspection process to ensure trouble-free set-up and operation.
Lathes
Bandsaws
Drills
Multi-Function CNC
Mills
Grinders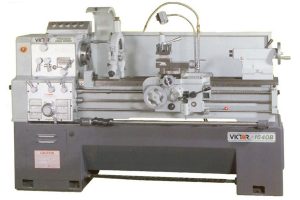 1600B Series Lathe
Heavy One-Piece Casting Base Provides Best Value
Swing over bed: 16 1/8″
Between centers: 30 / 40 / 60
Spindle Bore: 2 – 1/32″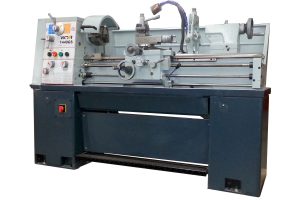 1400B Series Lathe
Durable and Affordable for Small Parts
Swing over bed: 14″
Between centers: 40
Spindle Bore: 1-1/2″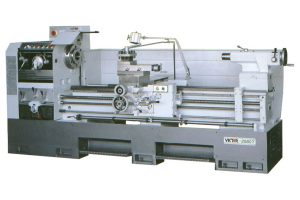 24/2900T Series Lathe
Power Machine for Your Toughest Jobs
Swing over bed: 29″
Between centers: 60 / 80 / 100 / 120
Spindle Bore: 4 – 1/8″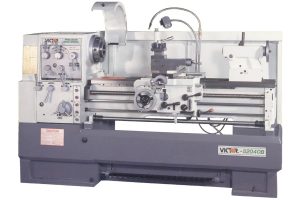 S2000B Series Lathe
Sturdy Workhorse for a Range of Applications
Swing over bed: 20″
Between centers: 40 / 60
Spindle Bore: 3 – 1/8″
618EVS Toolroom Lathe
Accurate and Precise Finish for Highest Quality
Swing over bed: 11″
Spindle Nose: 5C with 4″ Taper
Drive: Electronic Variable Speed
AH-300H / AH-400H Horizontal Bandsaws
Rigid and Heavy Duty for Delivering Maximum Efficiency
Capacity (round): 12″ / 16″
Capacity (rect.): 14″ x 12″ / 16″ x 16″
Blade Speeds: 8-314 FPM / 9-295 FPM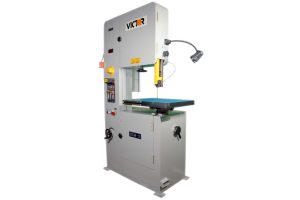 DCM-4/5/6/10 Vertical Bandsaws
Trouble-free, Space Saving, All Purpose Saw
Capacity (thickness): 11″ / 11″ / 12″ / 12″
Capacity (throat): 16″ / 20″ / 24″ / 40″
Blade Speeds: Up to 2,300 FPM
1043 Radial Drill
Easy-to-use Design Provides Highest Reliability and Rigidity
Diameter of Column: 10-1/4″
Max Distance: 43-5/16″
Spindle Stroke: 9″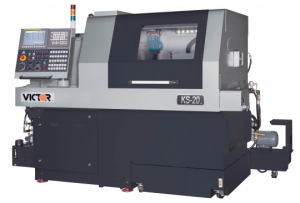 KS-20 CNC Sliding Head Swiss Lathe
KS-20 Sliding Head Swiss Lathe is a compact designed machine that integrates multiple tool slides with the main spindle and the sub-spindle.  Complicated small parts applications can be quickly accomplished in one easy setup.
0.79″ (20 mm) maximum turning diameter
8.07″ (205 mm) maximum turning length
Sliding head design
Rotary guide bushing to increase stability when machining long work piece
Main and sub-spindle feature C-axis functions
Direct drive spindle
4 sets of tool slides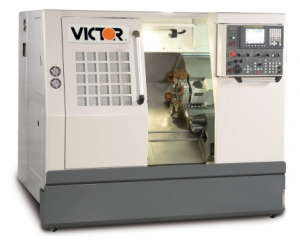 LM-8A CNC Slant Bed Lathe
LM-8A is a high precision CNC Lathe constructed in one-unity shaped base structure to enhance machine stability and maximize cutting rigidity.
A2-6 spindle nose
15″ (380 mm) maximum turning diameter
15.4″ (390 mm) maximum turning length
Programmable hydraulic tailstock
High precision ballscrew and linear guide
Dynamic graphic display
High speed 12-station servo turret
1,181 ipm rapid traverse
4,500 rpm spindle speed
563 rpm spindle speed of full power output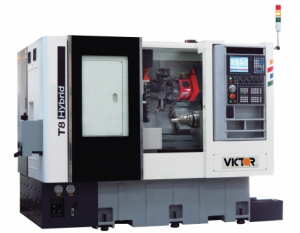 T-8 CNC Hybrid Turret Lathe
T-8 CNC Hybrid Turret Lathe offers best solutions for challenging and complex applications.  It is equipped with a powerful turret and flexible gantry tools for heavy duty turning and milling operations to maximize production efficiency.
13.78″ (350 mm) maximum turning length
2.56″ (65 mm) maximum bar capacity
Duo system with power turret and gantry tools system
Run 2 programs simultaneously to save cycle time
Synchronous spindles
Flexible gang tooling system with rotary table class – B-axis for machining on sub-spindle
Free angle B-axis 360° for all angular drilling and tapping
12-station power turret
Up to 24 live tools
4,000 rpm spindle speed
Up to 25 bar coolant pressure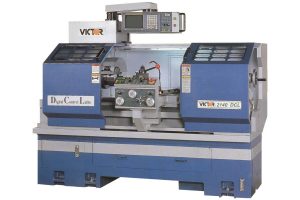 Digital Control Lathe
Full Featured CNC, Easy to Operate Package
Swing: 16″ and up with CNC Controlled Spindle
Program as you machine with Teach-in Function
Third handwheel allows full control of CNC programs
Minimize downtime with quick set-up and tear-down
Digital Control Mill
Ease of learning for your intuitive applications
Table Size: 16″ x 54″ and up
Open work area allows for flexible part set-up
Large working envelope great for long & tall parts
Hybrid design offers versatile machining options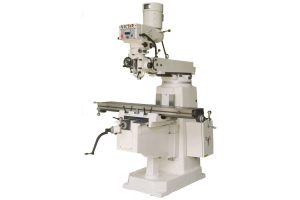 JF Series High Precision Mils
A Full Range of High Performance High Precision Models for Every Application
Working Surface: 9″ x 49″ / 10″ x 50″ / 10″ x 54″ / 12.5″ x 58″
Spindle Speed: Up to 4,200 RPM
Spindle Taper: R8 / NT#40
Options: Digital Readout / Powerfeed / Air-power Drawbar
Electronic Variable Speed upgrade available
Runs on 3-phase or single phase
TGS-618B/818B Surface Grinder
Superior Accuracy and Finish with Simple to Operate Controls
Working Surface: 6″ x 18″ / 8″ x 18″
Max Table Travel: 19″ x 7″ / 19″ x 8-1/4″
Grinding Wheel: 8″ x 5/8″ x 1-1/4″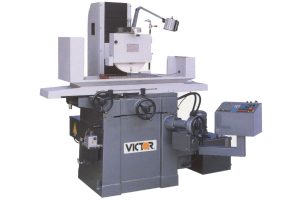 DPFG-1020AH/1224AH Hydraulic Surface Grinder
Smooth, Accurate Movement Convenient Auto-Downfeed
Work Surface: 10″ x 20″ / 12″ x 24″
Grinding Wheel: 8″ / 14″