Aurora Seiki

Aurora Seiki is located in the heart of Taiwan's heavy industry Taichung, providing advanced metalworking solutions and comprehensive services  for production machining.
Aurora Seiki designs, manufactures, sells and supports CNC machine tools including Horizontal Machine Centers, Vertical Machining Centers, Tapping Centers.
Aurora Seiki continues to pursue perfection and insists on following a healthy management philosophy in manufacturing machine tools. With their leading R&D team, they have created a division in developing and manufacturing machining centers known as Aurora Seiki Machinery.
Aurora Seiki believes in combining corporate resources and focusing on machine tools to provide a total solution to our global partners and valued customers with exceptional technology and quality.
F-series Vertical Machining Center
This series employs high precision roller type linear ways.
The motor end parts on 3 axes are precision scraped before mounting and carefully pre-tensioned after assembly, enabling the transmission system to achieve lifetime stability.
The X-axis is equipped with 6 blocks.
Saddle and table are a box-type construction with an increased height on structural parts, featuring light weight and high rigidity.
A perfect combination for speed and structural stability.
Over sized base and column, reinforced column bottom and solid Z-axis structure assure vibration-free cutting.
Rigid ball screw with double nuts is driven with powerful servo motor.
Extra wide span between linear ways effectively upgrades dynamic accuracy.
Equipped with a Fanuc 0i-MF control for higher speed and accuracy
An internet interface (front mounted CF card slot & USB port device) is provided for increased safety and convenience during machining.
F-23F-30F-40
F-23 Vertical Machining Center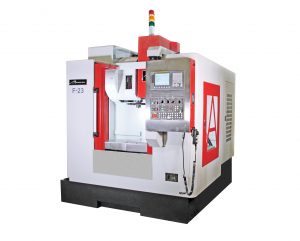 Standard Accessories:
Heat Exchanger on Electrical Cabinet
Closed Loop Spindle Chiller
8.4″ LCD Monitor
Chip Conveyor with Bucket
4th Axis Prep
8 Spare M Code Functions
Leveling Feet and Pads
3-Axis Pretensioned Ballscrews
Automatic Lubrication System
Fully Enclosed Splash Guard
Dust Proof Electrical Cabinet
Spindle Air Sealing
3-Color Signal Light
Rigid Tapping
Spindle Coolant Nozzle
Operation and Maintenance Manual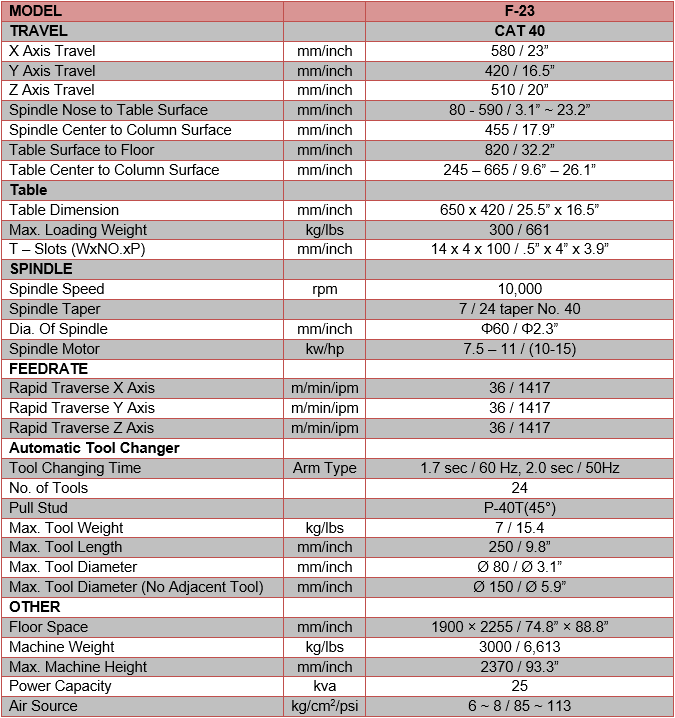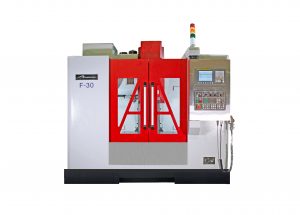 F-30 Vertical Machining Center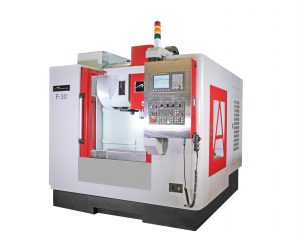 Standard Accessories:
Heat Exchanger on Electrical Cabinet
Closed Loop Spindle Chiller
8.4″ LCD Monitor
Chip Conveyor with Bucket
4th Axis Prep
8 Spare M Code Functions
Leveling Feet and Pads
3-Axis Pretensioned Ballscrews
Automatic Lubrication System
Fully Enclosed Splash Guard
Dust Proof Electrical Cabinet
Spindle Air Sealing
3-Color Signal Light
Rigid Tapping
Spindle Coolant Nozzle
Operation and Maintenance Manual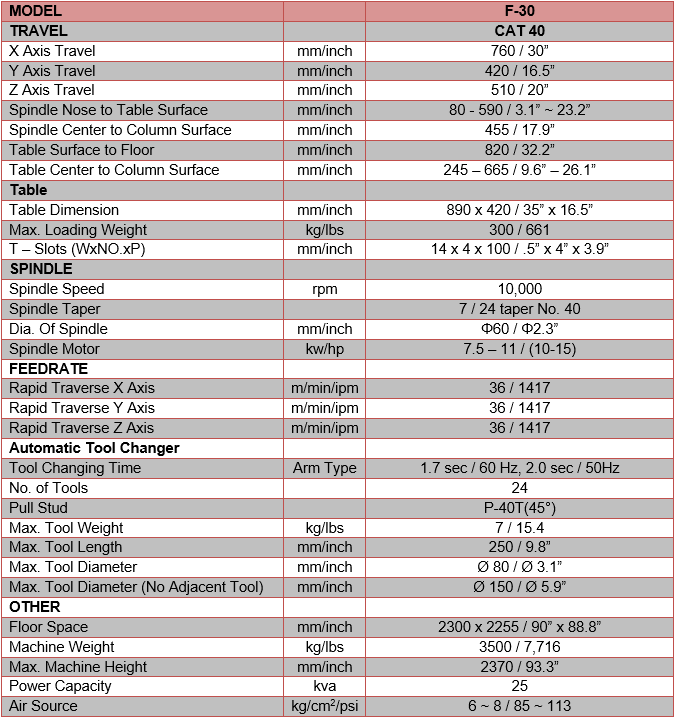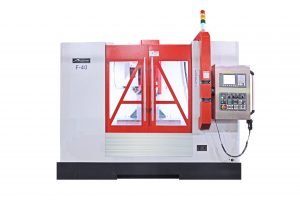 F-40 Vertical Machining Center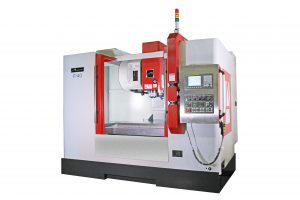 Standard Accessories:
Heat Exchanger on Electrical Cabinet
Closed Loop Spindle Chiller
8.4″ LCD Monitor
Chip Conveyor with Bucket
4th Axis Prep
8 Spare M Code Functions
Leveling Feet and Pads
3-Axis Pretensioned Ballscrews
Automatic Lubrication System
Fully Enclosed Splash Guard
Dust Proof Electrical Cabinet
Spindle Air Sealing
3-Color Signal Light
Rigid Tapping
Spindle Coolant Nozzle
Operation and Maintenance Manual